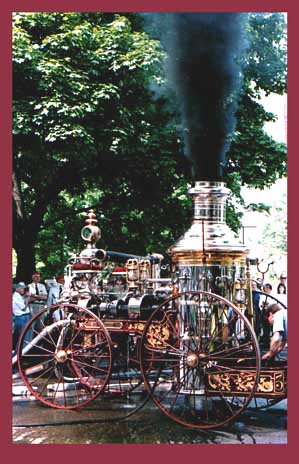 Founded in 1853, Protection Engine Co. #3 together with Honesdale Borough purchased Silsby Steam Fire Engine #483 from the manufacturer in Seneca Falls, NY in early 1875. The engine which was built in 1874 an another similar but older Silsby which was purchased from Towanda, PA in 1880 were the primary fire protection for Honesdale and the surrounding area for more than forty years. Today, Protection Engine Co. No. 3, but one of four companies that make up the Honesdale Fire Department, is among the oldest fire companies in Northeastern PA, The company now operates it"s fifth motorized apparatus since the days of the steamers.

Insuring these magnificent machines is an expensive process. We are all familiar with insuring our cars but a fire engine is very different; they may not be involved in road traffic accidents but they present many other risks to insurers so even insuring them for just one day, such as when they attend special events, is not possible; they need continuous insurance cover.

Insurance is of course just one expense involved in maintaining these prizes for posterity which why we are grateful for any generous support.
Click the photo to the left to go to other photos taken the same day or
Go to Engine3 Directory Page
Take Me To The New Silsby Site
Engine 3 and Silsby Site Copyright 2000 by Stan Pratt

Our thanks go to this UK shop insurance company for their generous support in maintaining this website.